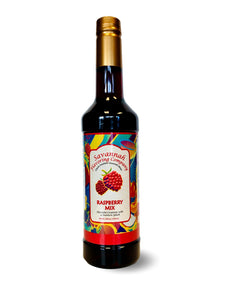 The rich flavor of ripe summer raspberry in this flavor mix from Savannah Flavoring Company.The versatile syrup is made with cane sugar and can be used in a variety of recipes including beverages, cooking, baking and more. 
A 25 oz bottle. Contains no juice
Sparkling Raspberry Soda
Ingredients:
¾ cup ice
8 oz. soda water
1 ½ oz. Southern Raspberry Mix
 Fill glass 3/4 full with ice.  Add soda water and Southern Blackberry Mix.
Raspberry Lemon Cream Cake
Ingredients:
1 Lemon Cake Mix
½ cup Southern Raspberry Mix
1 8oz package softened cream cheese
1 can condensed sweetened milk
1 cup Southern Raspberry Mix
Fresh Raspberries
Lemon zest to garnish
Prepare a lemon cake mix in a 9 x 13 pan according to package directions. While the cake is still warm, poke holes in the top with the handle of a wooden spoon or a large fork. Sprinkle on top of the cake the 1/2 cup Southern Raspberry Mix. Let the cake cool. Whisk together the softened cream cheese, condensed sweetened milk and 1 Cup Southern Raspberry Mix. Ice the top of the cooled cake with the frosting mixture. Garnish the top of the cake with fresh raspberries and lemon zest. Refrigerate for 4 hours before serving.