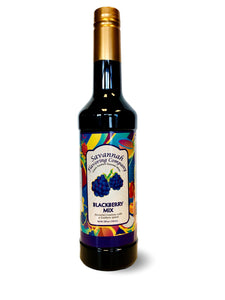 The rich flavor of ripe summer blackberry in this flavor mix from Savannah Flavoring Company.The versatile syrup is made with cane sugar and can be used in a variety of recipes including beverages, cooking, baking and more. 
A 25 oz bottle. Contains no juice
Sparkling Blackberry Soda
Ingredients:
¾ cup ice
8 oz. soda water
1 ½ oz. Southern Blackberry Mix
 Fill glass 3/4 full with ice.  Add soda water and Southern Blackberry Mix.
Blackberry Lemon Cream Cake
Ingredients:
1 Lemon Cake Mix
½ cup Southern Blackberry Mix
1 8oz package softened cream cheese
1 can condensed sweetened milk
1 cup Southern Blackberry Mix
Fresh Blackberries
Lemon zest to garnish
Prepare a lemon cake mix in a 9 x 13 pan according to package directions. While the cake is still warm, poke holes in the top with the handle of a wooden spoon or a large fork. Sprinkle on top of the cake the Southern Blackberry Mix. Let the cake cool. Whisk together the softened cream cheese, condensed sweetened milk and Southern Blackberry Mix. Ice the top of the cooled cake with the frosting mixture. Garnish the top of the cake with fresh blackberries and lemon zest. Refrigerate for 4 hours before serving.